FENG INSTRUMENTS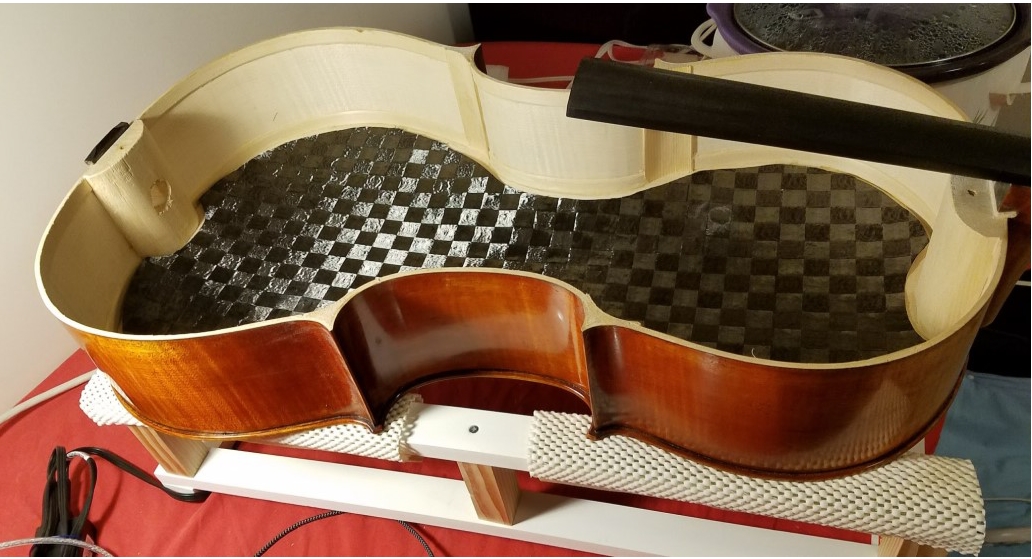 Stringnet has had the unique pleasure to make the acquaintance of a revolutionary artist who couples his inquiring mind with his musical talents and scientific training to advance the design and theory of violin making. Michael Feng, who lives and works in Boston, Massachusetts has struck tonal "Gold" with a revolutionary marriage of science with the traditional art of lutherie which has been been plied for over 400 years in the making of instruments of the violin family.
Michael, a cellist, has developed a synthesis of traditional violin making using an existing model – in this instance a cello – which is opened and to which a stiffening layer of carbon fiber is applied to both the back and top in a fully controlled process justified by acoustic measurements and a body of research. The end result, to stiffen and thereby enhance the structural properties of wood affecting its capacity to resonate and project this resonance, results in an instrument of optimal tonal beauty and power rivaling the response and depth of an old master instrument at a cost a fraction of what such an instrument would fetch in today's market. What's more, when the instrument is reassembled, one cannot see any change to the exterior of the instrument. It appears to look exactly like a pure maple/spruce/ebony instrument until one looks inside.
This process Michael has developed brings into the affordability range of advanced students as well as accomplished professionals the kind of sound previously reserved to those performers and collectors capable of paying many multiples of the prices at which these fine instruments can now be purchased. Originally developed on his instrument of choice, the cello, Michael is now extending the process to violins and violas with great success.
For those of you scientifically inclined, Michael has produced this BOOKLET which explains in scientific detail the theory and application of his process in words and photos. Click to download.
Stringnet publishes this page in hopes to bring wider notice to Michael Feng's exciting innovation in the evolution of string instrument technology. We invite you to open the booklet to learn more about Michael and his innovations in violin making.